Milk Powder for Adults
At Wyeth® Nutrition, we understand the importance of nutrition as part of leading a healthy and active lifestyle, so you can have the strength that you need to support your daily activities.
ENERCAL PLUS® is specially formulated as a complete, balanced nutritional supplement with a great taste.
Introducing the 8 Goodness of ENERCAL PLUS®​
1 glass of ENERCAL PLUS comes with 8 benefits for you and your loved ones. ​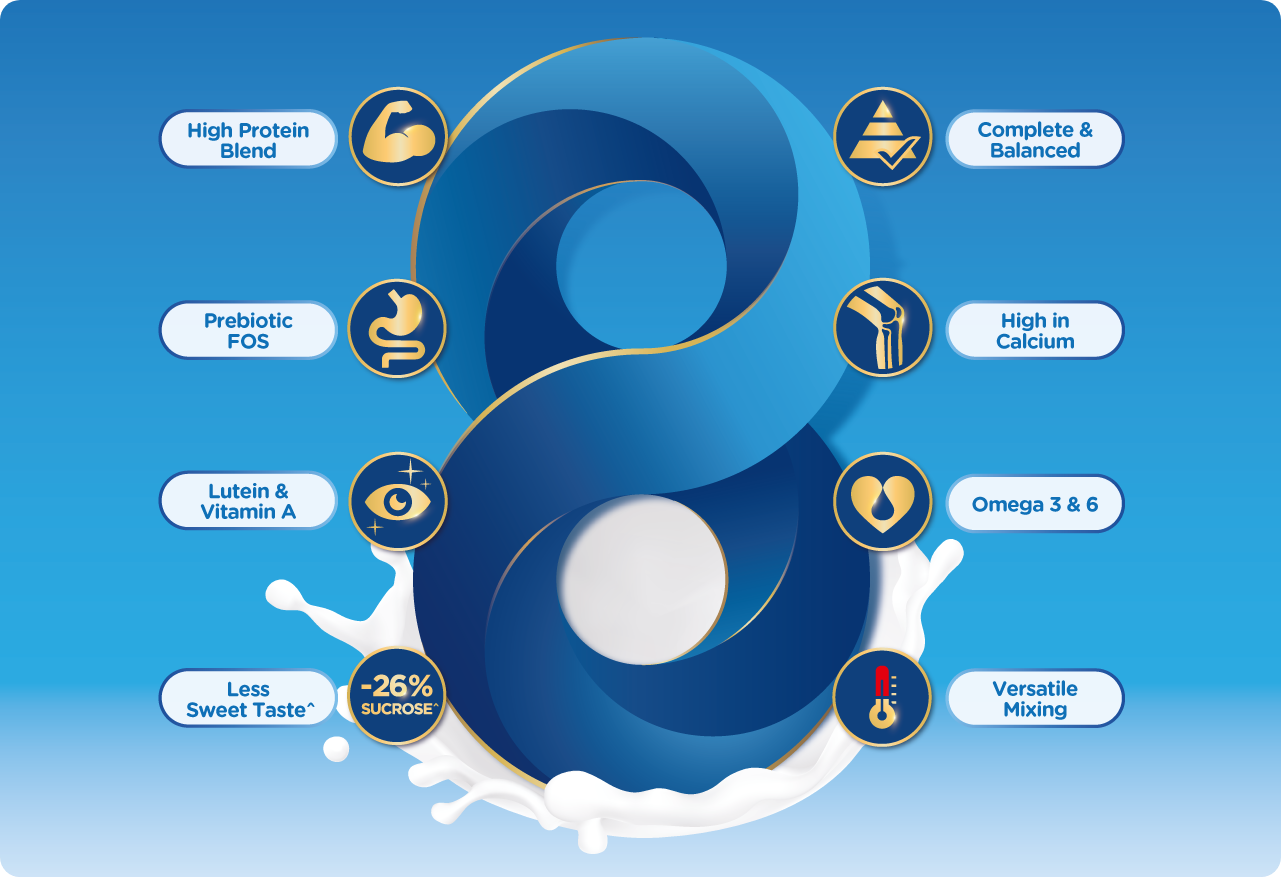 Regain and Maintain Everyday Strength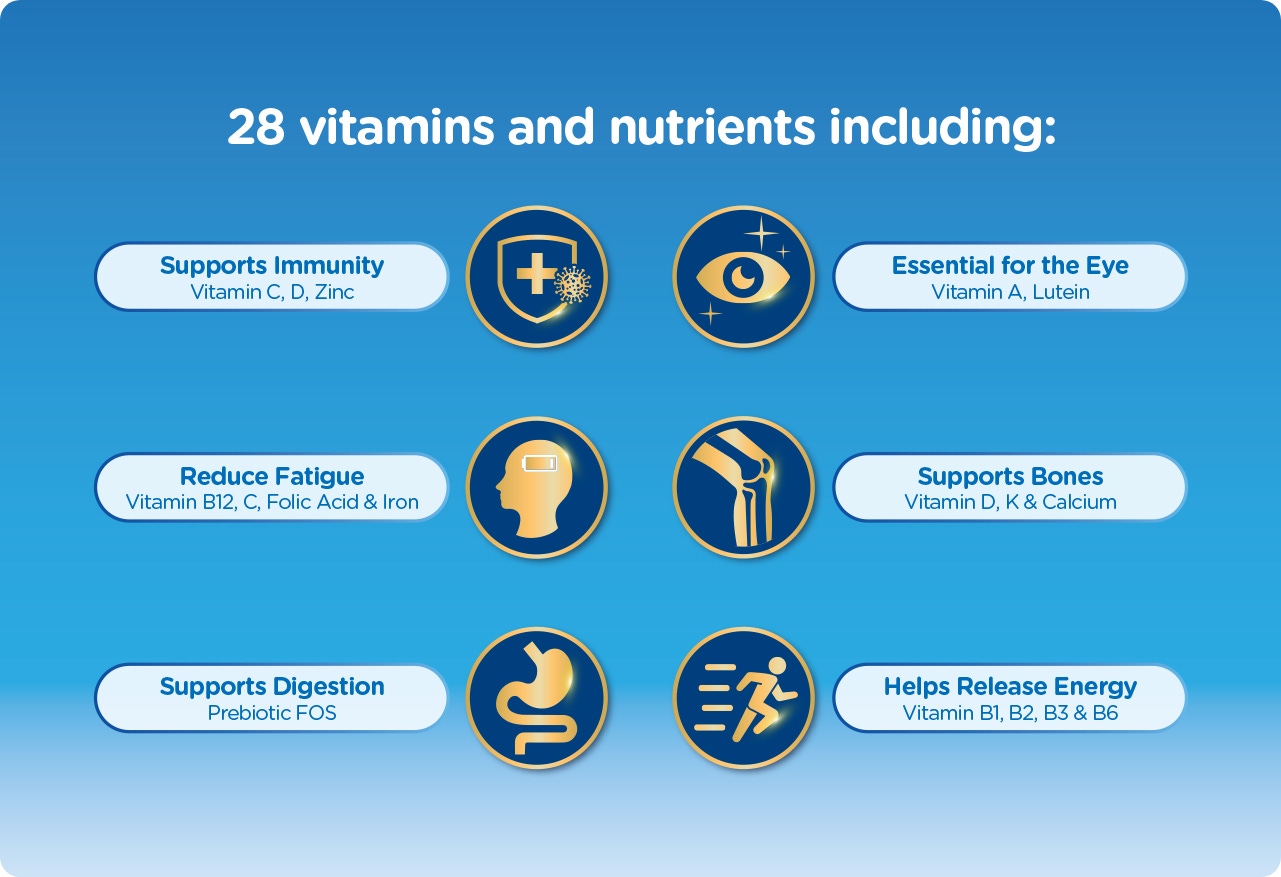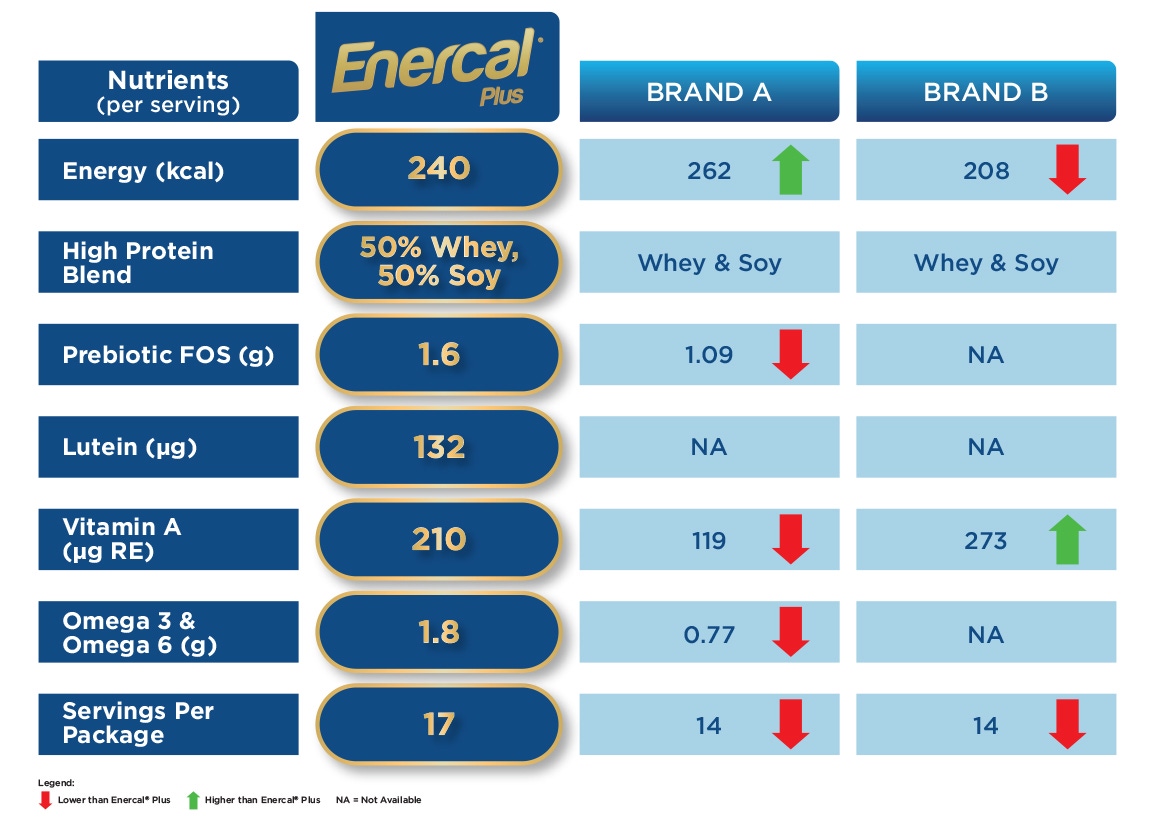 Nutritional Information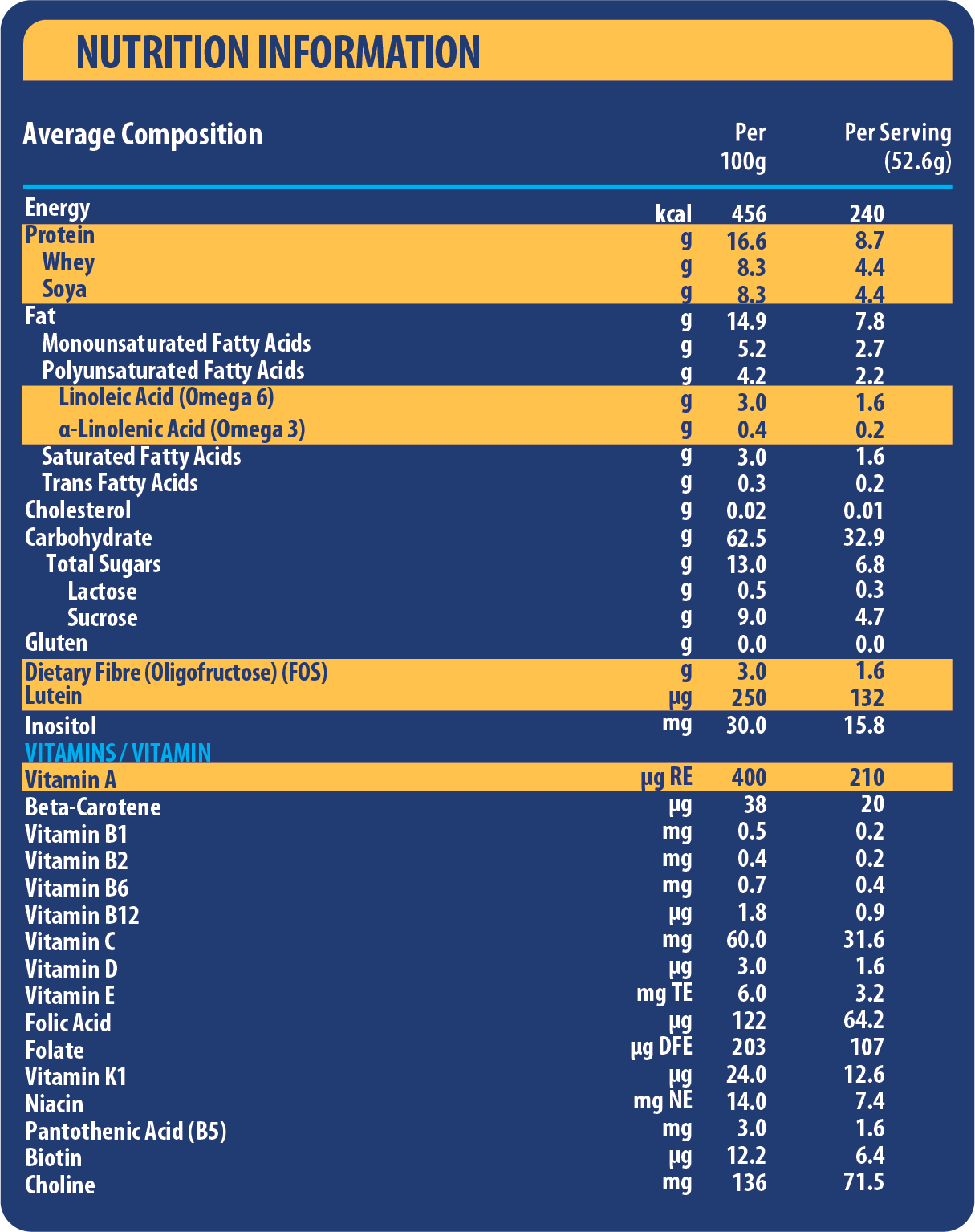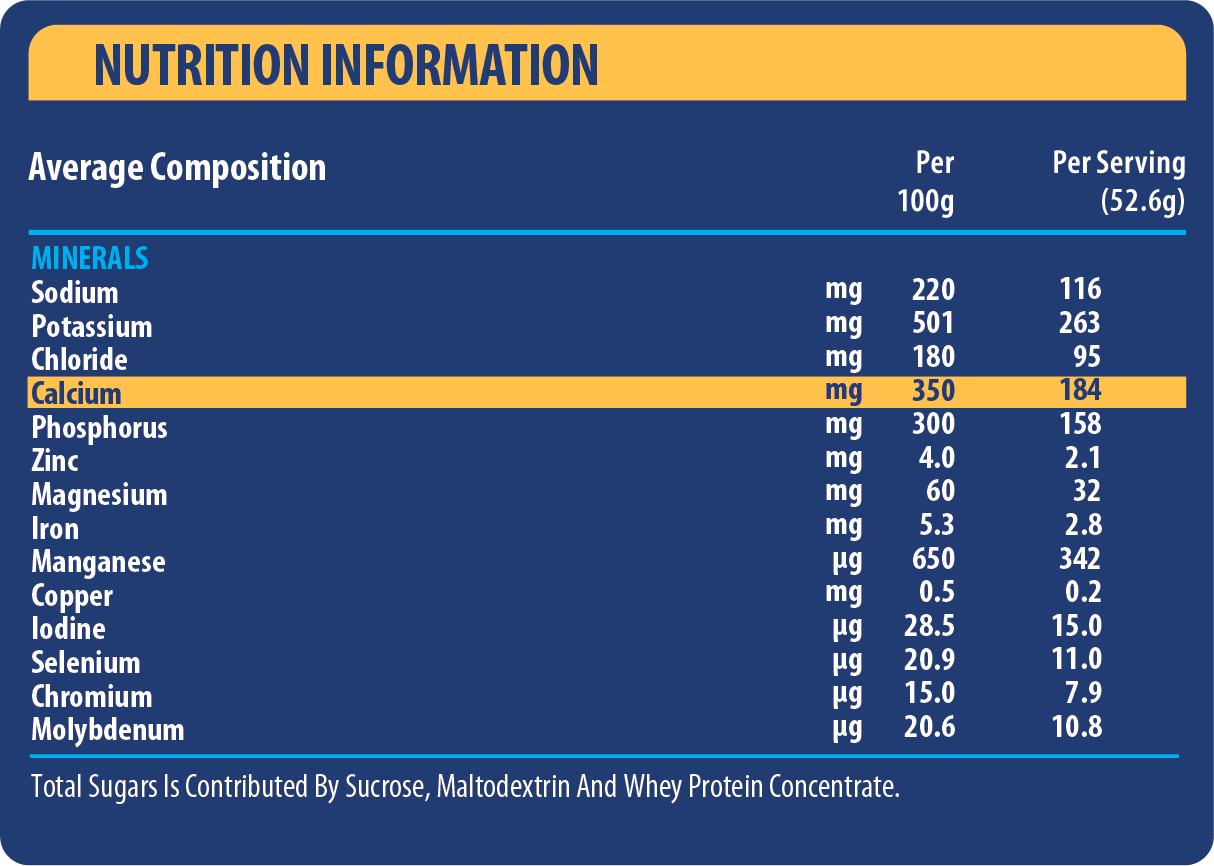 Preparation and Storage
How to Prepare

ENERCAL Plus® can be consumed with a meal or between meals to supplement your diet. Preparation instructions must be followed as listed on the can, along with your healthcare professional's instruction for using this product.
Recommended serving:
2 servings per day or as per recommended by your healthcare professional. Prepare ENERCAL Plus® using only the enclosed scoop.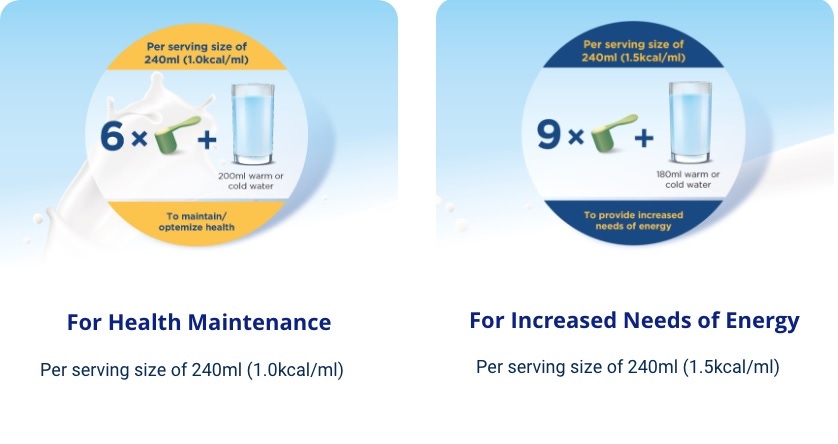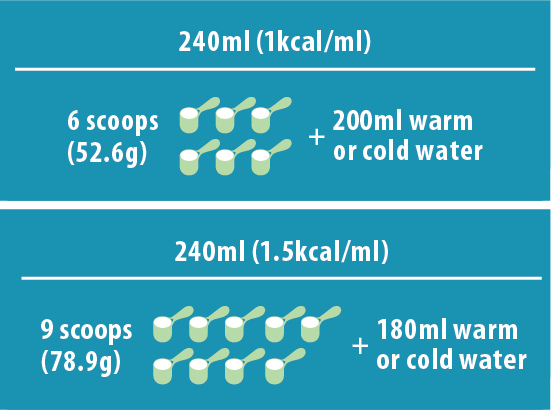 Storage
Use within 4 weeks of opening and discard remaining powder after that. Keep tin in a cool dry place. Always cover tin with lid after use. If prepared product cannot be used immediately, store in the refrigerator for no longer than 24 hours.​
FAQ
1. Who needs ENERCAL PLUS? 
•    Seniors who want to improve strength
•    Pre and post-surgery patients
•    Individuals who need calorie supplementation 
•    Individuals who need a nutritional meal replacement

Formulation is suitable for adults aged 18 years old and above. The formula provides complete, balanced nutrition to help improve strength in muscles, bones and overall health.

2. What is the difference between the previous formula and new improved formula? 
Both formulas provide complete, balanced nutrition with the same great taste. In the new improved formula, you will find: 
•    Addition of Prebiotics FOS to help maintain a healthy digestive system 
•    -26% sucrose to encourage healthier eating habits
•    +15% calcium to support healthy bone development 
•    Addition of Lutein, a type of carotenoid that is present in the eye  
 
3. Can ENERCAL PLUS be a meal replacement? 
Yes. ENERCAL PLUS can be consumed with a meal, or in between meals for supplementation of nutrition and strength. Please refer to the preparation guide for more information.
 
4. Is ENERCAL PLUS suitable for seniors above the age of 65? 
Yes. It is suitable for seniors given that digestive systems slow down and muscles weaken with age. However, for individuals with any underlying medical conditions, it is important to first consult their healthcare professional before incorporating ENERCAL PLUS into their diet. 
 
5. Is there anyone that cannot consume Enercal Plus?
•    Not intended for parenteral use. 
•    Not to be used to feed infants below 12 months of age, not as breastmilk substitute. 
•    Not intended for use in young children unless recommended by a physician or qualified healthcare professional. 
•    Contains Vitamin K1, persons taking warfarin shall seek medical advice before consuming this product.