Enercal Plus Free Sample (200g)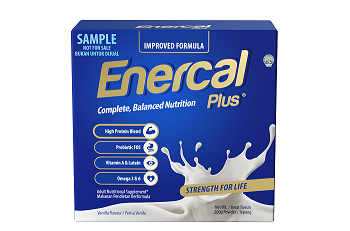 As we age, taking care of our nutritional needs becomes increasingly important to maintain our health and well-being. 
Enercal Plus is a complete and balanced nutritional supplement designed to cater to the needs of both older adults and the elderly. Specially formulated to support digestion and improve strength in muscles, bones, and overall health.
Packed with a total of 28 essential vitamins and nutrients, Enercal Plus ensures that you can have the strength that you need to support your daily activities:
•    High in calcium and Vitamin D helps to strengthen the bones
•    Vitamin A and Lutein is essential for the eye
•    Vitamin C, D and Zinc supports immunity

Fill up the form below to receive an Enercal Plus Free Sample (200g) and find out more information about Enercal Plus.