Meet PROMAMA®, the low fat maternal milk specially formulated to provide essential nutrients to help you achieve your ideal nutrition intake, now with Sphingomyelin, A2 beta-casein and with no added sucrose.
PROMAMA® is a low-fat maternal milk designed to supply ample nutrients for pregnant and breastfeeding moms, as well as those trying to conceive.
For both pregnant and breastfeeding mothers, what you consume directly affects the development of your child. Nutrients such as DHA, Choline and Folic Acid are especially important because they contribute to the cognitive development of the child. Other nutrients such as Calcium, Iron, Oligofructose and other forms of Vitamins and Minerals are also key to the child's physical development. It is therefore crucial for mothers to supplement themselves with food products that contain these nutrients for better maternal and fetal health.

Contains DHA to help support your baby's growth & development.

Contains A2 B-Casein and Oligofructose. Oligofructose is a soluble dietary fibre that helps maintain a healthy digestive system.

A glass of PROMAMA® contains only 2.1g of fat, which is similar to that of low fat milk.
PROMAMA® provides nutrients to help support pregnancy and breastfeeding.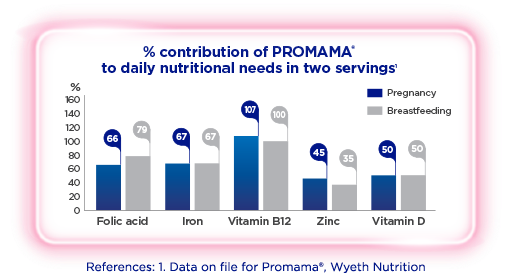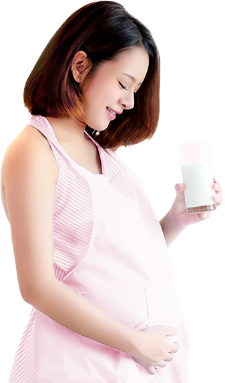 There is no gift greater than the life inside you.
We know how important this journey is to you.  With PROMAMA®, be assured that you're receiving quality nutrients to support you and the growth and development of your child.
Nutritional Info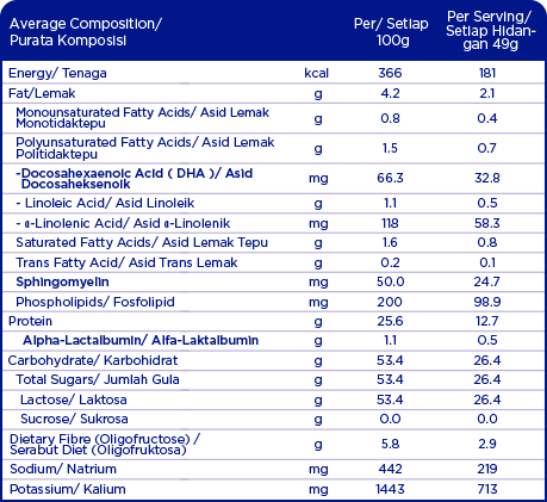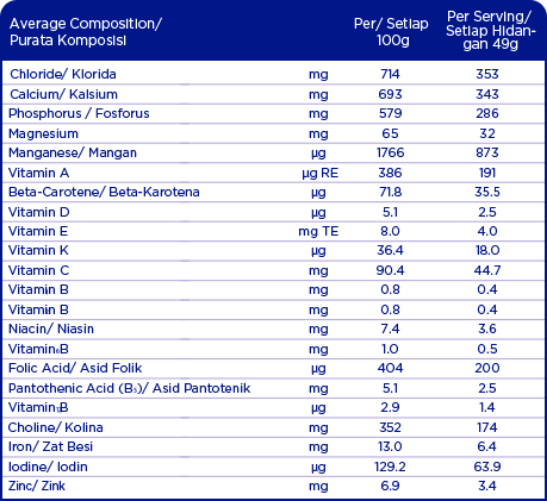 How To Prepare
How To Prepare
PROMAMA® comes in powder form and dissolves easily with water upon stirring.
Each carton of PROMAMA® provides a scoop for preparation.
To prepare one serving of PROMAMA® (approx. 240ml):
Add 210ml of previously boiled lukewarm water to a cup.
Add 8 scoops of powder (49g).
Stir vigorously until dissolved.
| Lukewarm or Cool Water (Previously Boiled) | Level Scoops | Recommended Servings Per Day |
| --- | --- | --- |
| 210mL (7fl.oz.) | 8 | 1 |
If the prepared PROMAMA® is not consumed immediately, the milk supplement should be covered and stored in the refrigerator, then used within 24 hours. Discard any unfinished servings.
PROMAMA® is also highly recommended to be supplemented as part of a varied and balanced diet, and active lifestyle.
Storage Instruction
Keep unopened pouch (in box) in a cool, dry place. Close the pouch tightly after use. Use within 4 weeks of opening. Avoid prolonged storage at excessive temperatures. Do not keep opened pouch in the refrigerator. See expiration date on the bottom of the box.